All about me....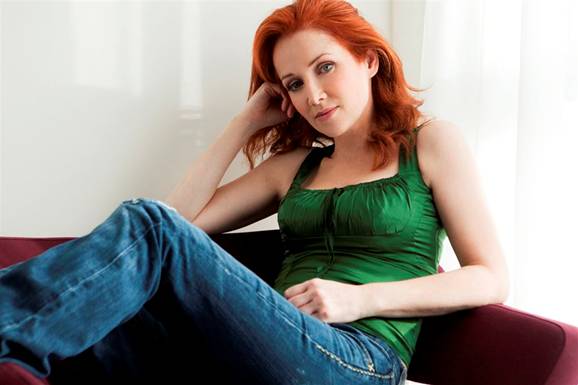 Kim Thomson was born in 1964 in Scotland, of Scottish and Irish parentage.  She trained at London's Central School of Speech and Drama.
Kim first came to the attention of the British public when she played 'Sally Jupp' in the riveting murder mystery Cover Her Face, part of the Detective Adam Dalgliesh series.
Kim next appeared as 'Elsie Flowers' in Fay Weldon's cautionary tale of adultery The Life and Loves of a She Devil for the BBC, which went on to become a cult classic.
A regular role followed in the acclaimed sitcom Brush Strokes securing Kim's reputation for comedy.
Film success soon followed when Kim was invited to join Jeff Goldblum in the 1989 feature film debut of screenwriter Richard Curtis and director Mel Smith, The Tall Guy.
Kim then won the leading role 'Heloise' in Stealing Heaven, directed by Clive Donner and playing opposite Denholm Elliot and Derek de Lint. This led to Kim starring as 'Estella' in Disney's TV production of Great Expectations with Anthony Hopkins as Magwitch and Jean Simmons as Miss Havisham.
Kim also starred in both series of Loved By You, the British remake of NBC's hit US comedy series, Mad About You.
In Virtual Murder, an unusual investigative drama series shown on BBC television in 1992, Kim starred as Nicolas Clay's vivacious, red-headed partner, 'Samantha Valentine'.
Kim has enjoyed success in dramas as diverse as Inspector Morse, Sherlock Holmes and the BBC's fantasy hit Merlin, but is equally comfortable in the comedy realm having shone in the outrageous comedy Perfect World, as David Baddiel's ex-wife in The Baddiel Syndrome and in sketches on The Frank Skinner Show.
Kim's extensive theatre work includes classical roles such as 'Cordelia' in King Lear at the Old Vic, and 'Agnes' in Brand at The Aldwych, 'Elena' in Uncle Vanya opposite Stephen Rea, 'Lady Chiltern' in Peter Hall's acclaimed production of An Ideal Husband at The Haymarket, and 'Joanna' in the sell-out tour of Present Laughter starring Rik Mayall.
A successful move to America saw Kim starring in the critically acclaimed 10th Kingdom, an epic fantasy TV miniseries written by screenwriter Simon Moore.
This was followed by another starring role opposite Julie Andrews and Anne Hathaway in Disney's The Princess Diaries II. Meanwhile Kim was gracing US screens in several high profile TV dramas, including The Unit, Pepper Dennis and The 11th Hour.
In recent years Kim has been seen in a number of leading roles on UK TV, which include playing opposite Timothy Spall in the highly acclaimed series The Street, and also as 'Claire Green', opposite Trevor Eve, in Hughie Green, Most Sincerely.
Guest Episodes followed in New Tricks, Taggart, Judge John Deed and Lynda La Plante's powerful crime drama Trial and Retribution.
Recently, Kim played the recurring role of barrister 'Naomi Woods' in The Bill and was a regular cast member in Emmerdale as flame-haired beauty 'Faye Lamb'.
Last year Kim graduated with a first class honours degree in Politics, Philosophy, and History from London University, and regularly appears on the This Morning news review spot.
Future projects include her first screenplay, an adaptation of the best selling novel No Good Deed by Manda Scott.
---